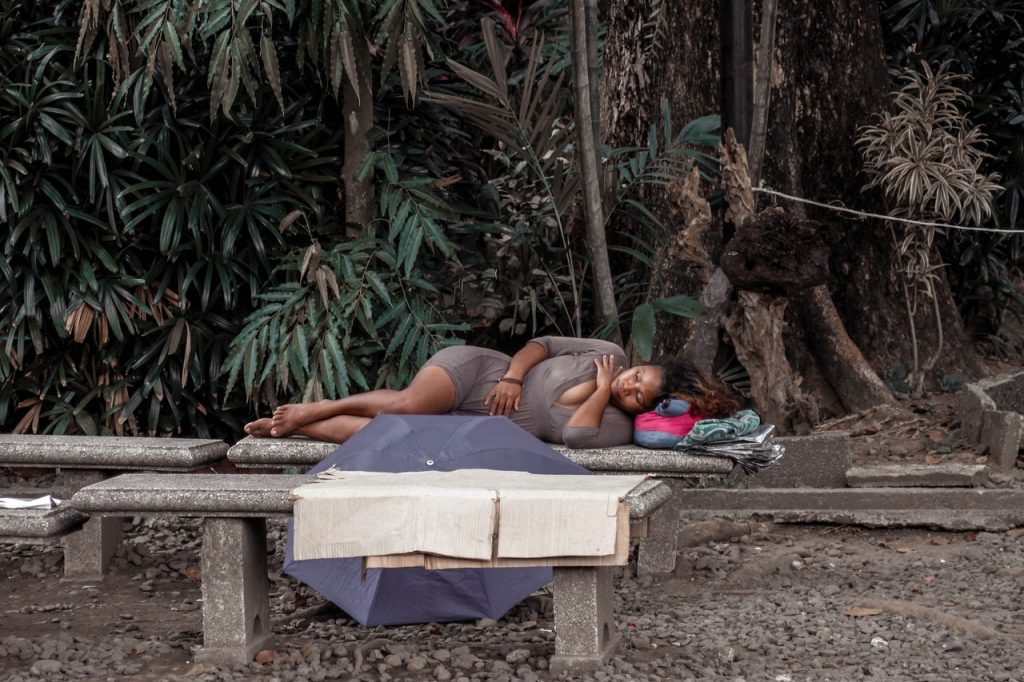 Finding out you are pregnant can be scary enough without the added complication of homelessness. Maybe you already were displaced when you became pregnant. Or maybe you were thrown out of your home once you revealed you were pregnant to family members or your landlord. Regardless of the reason, homelessness poses a health and safety risk for both the mother and her unborn child. Pregnant homeless women are more likely to face complications than their sheltered counterparts, according to a study published by Health Affairs. Among the most common health issues for homeless pregnant women were anemia, early labor, hemorrhaging, and hypertension.
Homeless women who are pregnant have options beyond homeless shelters, which also can pose certain risks to them and their babies. A pregnancy help center can offer alternatives.
Exploring your unplanned pregnancy options
Before you make any decisions about your pregnancy, it is a good idea to confirm you are pregnant and how far along you are in your pregnancy. Care Net Pregnancy Center offers free pregnancy testing and free limited pregnancy ultrasounds. Our results are quick and accurate, so pregnant women have the facts they need to move forward.
Homeless women who did not intend to become mothers have unplanned pregnancy options: abortion, adoption, and parenting. Whichever options you choose, Care Net Pregnancy Center is here to help you through it.
Abortion
It is never an easy decision to terminate a pregnancy. Women who wish to pursue this pregnancy option can find help and support at Care Net Pregnancy Center. From pre-abortion care to post-abortion trauma therapy, our team is here to help you through every step of the process. Our center does not perform or refer for abortions. Women who opt for abortion must find their own abortion provider.
Adoption
Adoption is a good alternative for women who are not yet ready to be parents, but who also cannot make the decision to have an abortion. There are four different types of adoption: open, semi-open, semi-closed, and closed. The one you choose depends on whether you wish to remain in contact with your child and their adoptive family. Care Net Pregnancy Center offers pre-adoption and post-adoption education services.
Parenting
Women who decide to raise their babies have all help and encouragement they need with free parenting education classes and support groups through Care Net Pregnancy Center. Our Earn While You Learn program provides resources like maternity and baby items and other necessities.
Find homeless shelters for pregnant women
Until you decide what you want to do about your pregnancy, you will need shelter. Even after you decide that you want to adopt or parent, accessing housing is a priority for your health and that of your baby. Pregnant women are considered a priority need for housing. Agencies will work diligently to find you a suitable shelter. National programs like the Homeless Prenatal Program can assist with finding women's shelters designed to accommodate pregnant women. If you decide to work with an adoption agency, your liaison with the agency can assist in finding you a suitable shelter. Some adoption agencies have housing options for pregnant homeless women who are their clients to ensure their health and well-being until delivery.
If you were evicted from your home after revealing you were pregnant to your landlord, you may have legal recourse. The Federal Fair Housing Act makes it illegal for a landlord to evict you based solely on the fact you are pregnant. If you have been evicted for no other reason than pregnancy, you can file a complaint with the U.S. Department of Housing and Urban Development.
Financial help for pregnant homeless women
Medicaid offers certain benefits for homeless pregnant women. Several government organizations assist pregnant women, including those who are without adequate shelter. Here are some resources that can help:
Women, Infants, and Children (WIC) Program offers nutritional food and education. Some screening services also are provided for women during pregnancy and through six weeks after birth. Breastfeeding mothers qualify for assistance that can last from six months to a year after birth.
Pregnancy Medicaid is a state-administered program. The federal government established general guidelines for medical assistance, but each state determines specific requirements.
Section 8 Housing, also known as the Housing Choice Voucher Program, helps with rental expenses.
The U.S. Department of Health and Human Services (HHS) also provides several grant programs to assist the homeless, including pregnant women.
Secure housing for all pregnant women
Care Net Pregnancy Center is committed to helping all pregnant women find secure housing. Our community referrals program connects homeless pregnant women with resources designed to find the best housing solution. Walk into any of our clinic locations or contact us online to schedule a free consultation.